Engagement and data, from
gratitude to results.
Mimoo's innovation and technology have a unique way of connecting brands and people, where everyone wins. On the one hand, brands offer benefits that lead to experiences with products and services. On the other hand, people contribute with their time, attention and true engagement, helping companies tackle their marketing, sales and supply chain challenges.
Brands that we are proud to have helped
Check out below how we create value to everyone in our
ecosystem: consumers, brands and retailers.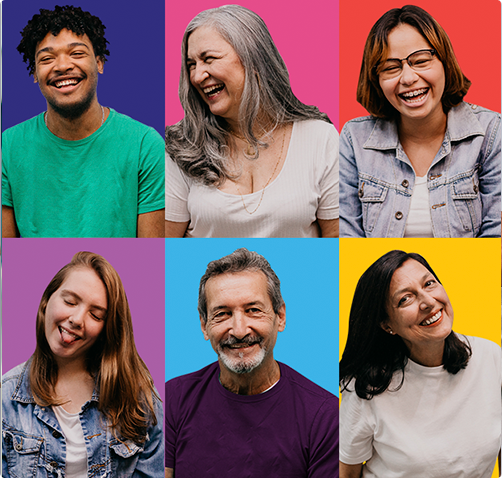 At Mimoo, consumers can try out amazing products and
services without ever reaching for their wallet. To participate,
all it takes is downloading the app and joining marketing
challenges and missions created by companies.

Consumer collaboration and engagement earns them points,
which can be exchanged for gifts across our stores in São
Paulo. More than 2 million products have already been
collected, including cosmetics, hygiene and beauty products,
home care, food, beverages and services.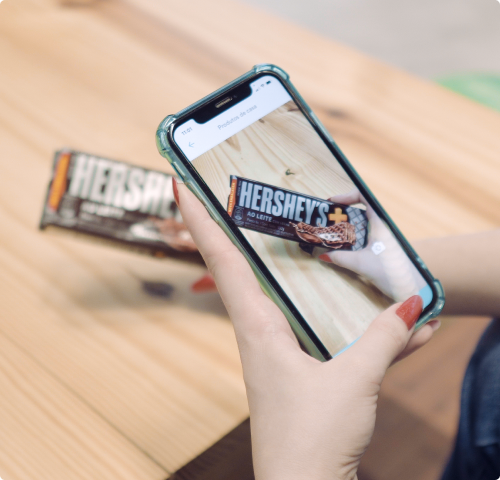 Mimoo revolutionizes how brands relate to consumers.
Through true engagement and collaboration, brands are able to:
– Create an emotional connection, way beyond conventional advertising
– Use data intelligently to boost consumer experience and engagement in social media
– Receive genuine reviews in e-commerce websites
– Get the full attention of people with videos that generate active and supported viewing engagement
– Get insights and quick data collection to build their business and launch new products
– Eliminate losses arising from inaccurate demand planning
– Improve the lives of thousands of people.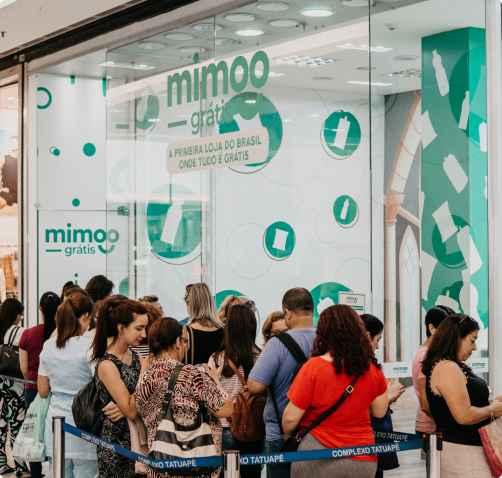 For retail, Mimoo is an attraction in it of itself. Our innovative approach to loyalty helps shopping malls, department stores and supermarkets generate flow, boost attendance and improve the consumer experience.
All of that is possible because the benefits of Mimoo's program have to be redeemed at our physical stores.
Click here
to check out our stores.
We are very proud of our ever-
growing community
55.82% Mimoo consumers are the main Shoppers of their household. "My mother" comes in 2nd place, with 23.71%.
68.36% of Mimoo's consumer base consider themselves very happy people.
38.71% of Mimoo consumers have straight hair. 30.08% have curly hair.
12.94% use the Seda brand as their shampoo of choice. Dove comes in 2nd place, with 8.71% in penetration
26.42% of Mimoo's consumers use their own cars as means of transport. 57.11% use public transportation and only 3.02% use bicycles.
65.70% of the consumer base have pets. 57.2% have pet dogs and 28.8% have pet cats.
90.83% of the consumer base regularly shop for groceries in the market. 24.95% shop monthly and 24.37% shop weekly.
The Rexona brand is the main choice of deodorant for 25.62% of consumers Nivea comes in 2nd place, with 14.79%, followed by DOVE and Monange, with 12.53% and 10.82% respectively.
Shoppers
Happiness
Hair Type
Shampoo
Means of transport
Cats and dogs
Food Retail
Deodorant
A new level of engagement
Mimoo offers a selection of intelligent solutions based on tried-and-true gamification
strategies to solve different corporate challenges.
Case study:
Full Engagement (Product Experience +
Proof of Attention + Proof of Influence)

Activate nano- and micro-influencers who received 10 different SKUs of the brand and shared their experience in Instagram Stories. Promote benefits and mode of use of products through Video Quiz missions.
Product experience
Proof of attention
Proof of influence
of respondents
assimilated the message
Case study:
Proof of
consideration
Leverage consideration and online sales of Garnier masks, inviting consumers who received the product at Mimoo stores to review the product on e-commerce sites.
Product experimentation
Proof of consideration
Genuine reviews in
e-commerce websites
Case study:
Generation of
Insights
Generate insights regarding the flavor, packaging and overall experience with the Passatempo product distributed at Mimoo stores, through a survey.
Product experimentation
Generation of Insights
Surveys
answered in 7 days
of people who redeemed
the product took the survey.
Mimoo has a platform where brands can
monitor engagement and results of
actions in real time.
Choose a format to engage
consumers.
Manage campaign hits and history.
Review the performance of your
campaigns.
Choose a format to engage consumers.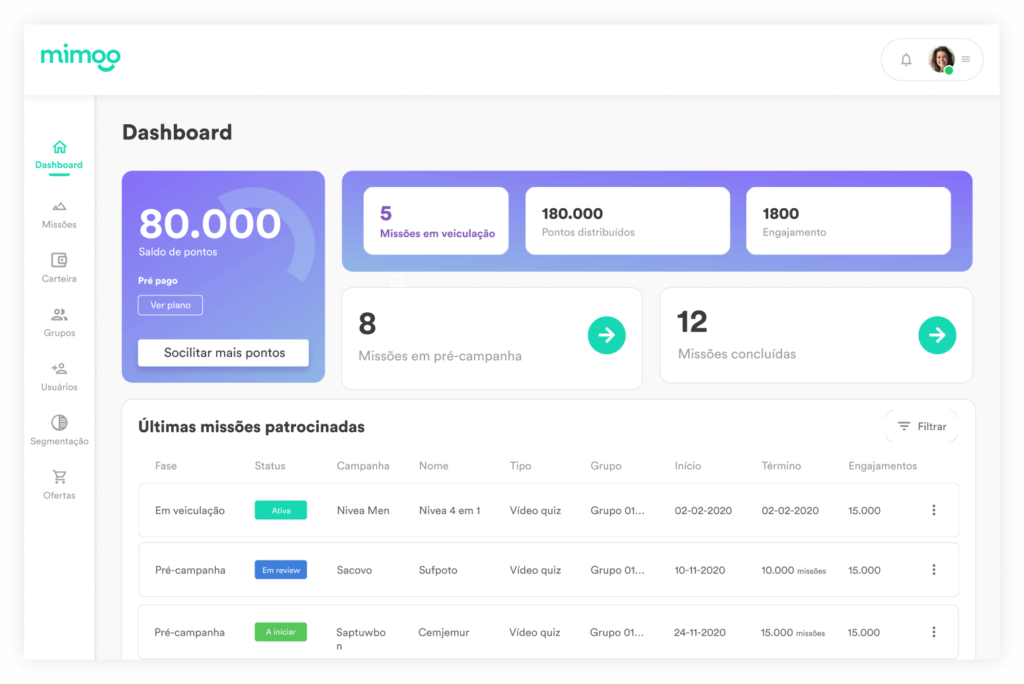 Manage campaign hits and history.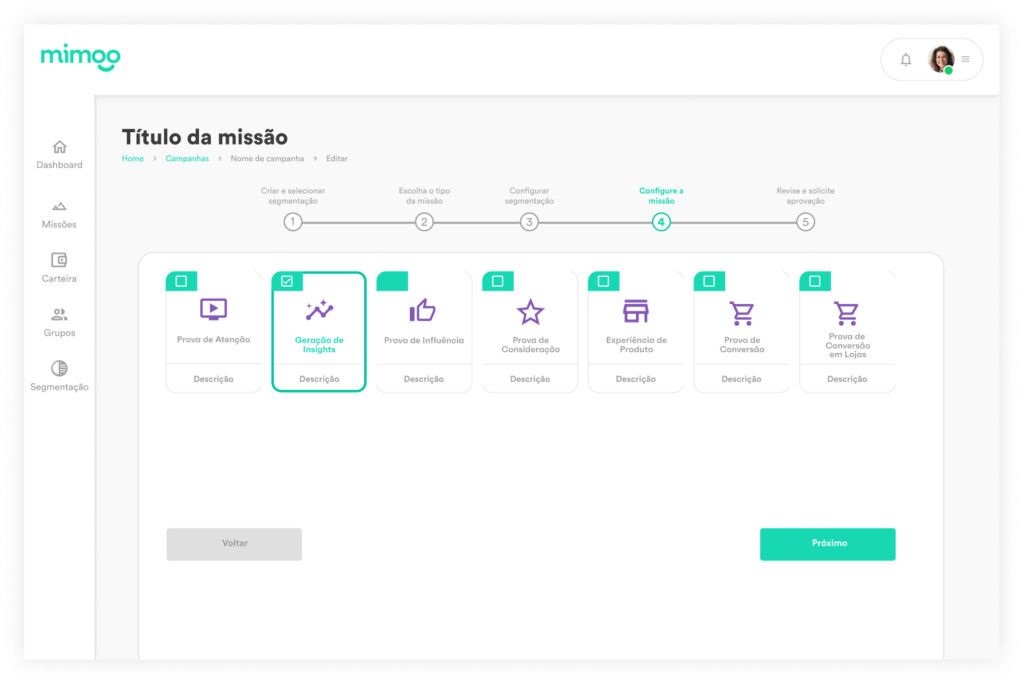 Review the performance of your campaigns.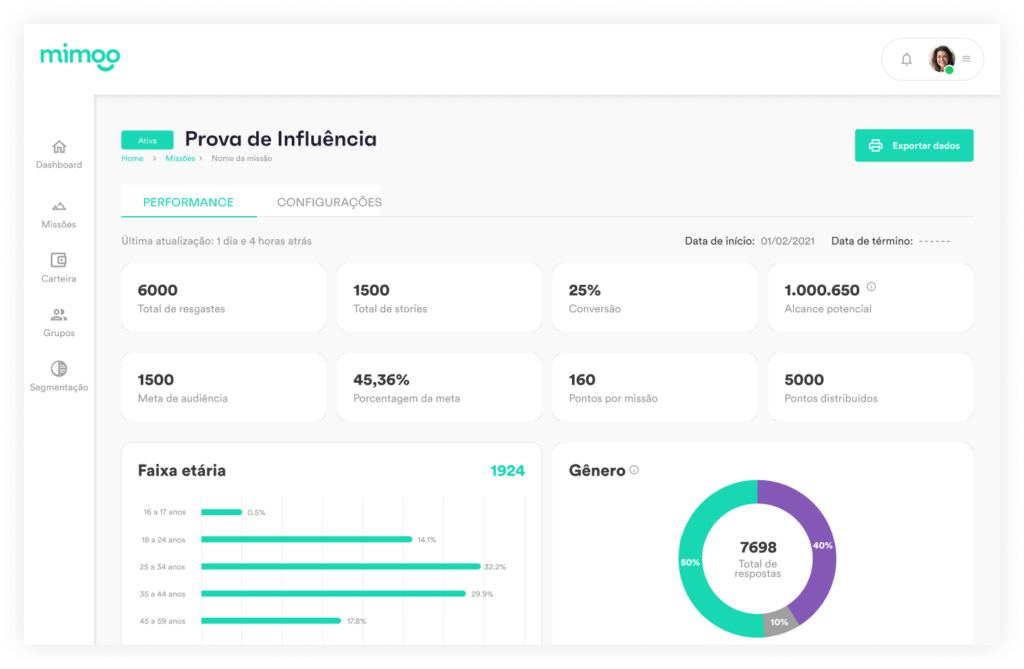 Fill out the form to contact us and
find out how Mimoo can help your
company.
We enable exchanges
between brands
and people
who move the world.